ABOUT
"Intense passion for art, architecture and details" - These are the keywords that best describe Andrea Prandini, the interior illustrator and designer based in Paris and active worldwide.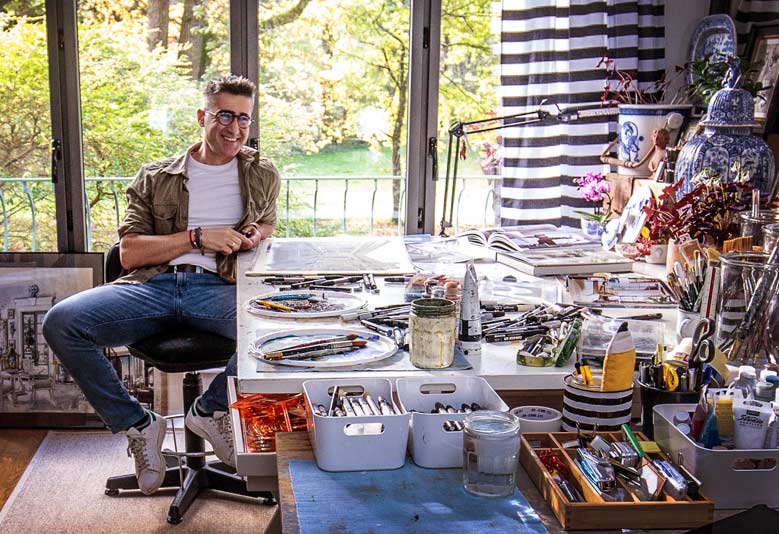 Graduated at Brera Academy of Art in Milan, Andrea trains his illustrative skills at Milan 'Teatro alla Scala'. It's in this prestigious opera house that he developes his artistic talent, getting involved in the design and drawing for opera settings. His career sees him then working at one of the most important design studios of Milan city, where he increased a keen spatial awareness and perfected his natural talent for rendering and recreating interior spaces by hand drawing. Settled in Paris in 2006, he works since then on prestigious projects for luxury commercial brands, private residences and yacths commissioned by national and international clients.
In more than 15 years of experience, Andrea Prandini has defined a unique approach to art and interior design, that makes him today a complete and exhaustive professional profile.
His natural talent for hand-drawing perfectly matches today with virtuality and technology. Starting from the inception of the project, passing through 3D computer rendering and project planning with the most widely known softwares and tech-tools, he arrives to completing it with his hand touch to deliver to his customers the most realistic drawings ever.
Whether is USA, Middle East or Europe, you too can have your own precious "bozzetto" 'Made by Andrea Prandini'.